Health Foods Barry
This page provides relevant content and local businesses that can help with your search for information on Health Foods. You will find informative articles about Health Foods, including "A Low Fat Granola Recipe for a Healthy Heart" and "Healthy Cereal Choices". Below you will also find local businesses that may provide the products or services you are looking for. Please scroll down to find the local resources in Barry that can help answer your questions about Health Foods.
---
Health With Herbs
01446 741602
127 Holton Road
Barry, WA
Data Provided by:
Richardson'S Health Foods
029 20711044
Victoria Road
Penarth, WA
Data Provided by:
Health With Herbs
029 20343226
124 Cowbridge Road East
Cardiff, WA
Data Provided by:
Health With Herbs
029 20229048
24 Royal Arcade
Cardiff, WA
Data Provided by:
Natures Table
029 20490683
C4 South Point
Cardiff, WA
Data Provided by:
Vydex Co
02920 578220
Po Box 164
Cardiff, WA
Data Provided by:
Ener Chi
029 20707356
31 Hickman Road
Penarth, WA
Data Provided by:
Beanfreaks Ltd
029 20251671
3 St Mary Street
Cardiff, WA
Data Provided by:
Magnettherapy Health Foods
01446 772522
17 Townmill Road
Cowbridge, WA
Data Provided by:
Pulse Wholefoods
02920 396189
171 Kings Road
Cardiff, WA
Data Provided by:
Data Provided by:
A Low Fat Granola Recipe for a Healthy Heart
A Healthy Low Fat Granola Recipe
Why not try this healthy low fat granola recipe?
Granola is a very welcome addition to muesli on cold winter mornings.
Some people love to eat it as a cereal by itself. It's certainly very nice that way but, for me, it's just too high in sugars for everyday consumption.
However, if you are , walking in the wilds or working hard and using up loads of energy, there is nothing wrong with replenishing your reserves with a (quite) low-fat granola bar or a handful or two of homemade granola.
The sugars give you an instant lift and the complex carbohydrates in the grains gives you a more sustained energy. The seeds and nuts provide proteins to sustain you for even longer.
Recent research has shown that protein contributes to that "full" feeling you expect from eating a square meal. (Interesting that research often just corroborates what nutritionists have known for years!)
A healthy low fat granola recipe:
Granola - a heart healthy recipe! Granola made this way is also a heart-healthy snack food because of the relatively low fat content and the vitamins and minerals supplied by the grains, seeds, nuts and fruits.
Obviously you need to be careful not to have too much of a good thing. I find it's really easy to pig out on this - not such a good idea if you are being quite sedentary!
Oats and other grains are rich in magnesium and other minerals and vitamins which help keep cholesterol low.
So, granola can be a quite healthy as part of a diet rich in natural grains and vegetables - and as a welcome treat for when you are working or playing extra hard.
A healthy low fat granola recipe:
Why make your own homemade granola?
The advantage of making your own healthy homemade granola is that you can avoid some of the hydrogenated fats and corn syrup found in many of the commercial brands.
For best nutrition, choose a good oil which is high in polyunsaturated fats or mono-unsaturated fat rather than saturated fats. Safflower oil is a good choice but relatively expensive. Peanut oil and sunflower oil are also very good. Some of the cold-pressed oils may be a little too tasty for the job. Sunflower is good because the taste is mild.
You can use margarine but it is usually made with trans-fats which raise cholesterol. A good natural oil (preferably organic) is far better.
You can also choose a high proportion of as ingredients. Using whole-grain and organic ingredients in your granola snack recipe will bring you even greater health benefits as you can be certain that you are consuming far fewer toxic chemical residues.
Organic farming is also far better for the environment and for wildlife. Please see for more on this.
You can, of course buy
and plenty of other gourmet granolas. But why bother when making excellent homemade granola is so easy - and you can control the fat input, too so that your granola really is low fat.
A healthy low fat granola recip...
Healthy Cereal Choices
What is a healthy cereal?
Cereals and grains play a large part in most people's diets. Cereals can be both nutritious and delicious.
But which ones are best for health? And which ones are grown in ways that do not harm the environment?
What's here?
This page is about the cereals we eat and how organic whole grains are the best cereal choice for everyday eating.
This is the first of several pages on healthy cereals and cereal nutrition facts. After a brief look at the role of cereals in our diets, this page considers wheat as a nutritional cereal. There is a brief history of wheat and a look at some of the health implications of modern cereal production methods.
There are enormous environmental concerns about our farming and cereal production methods. Modern farming is quite unsustainable.
Ads and fads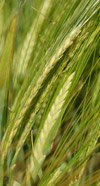 We are bombarded with ads for breakfast cereals: "High fibre", "low fat", "added vitamins", "suitable for a calorie-controlled diet for weight loss", - the claims made for these creations are endless.

Some cereal manufacturers have deep pockets and seem to spend the equivalent of a small country's wealth on their advertising campaigns.

However, some cereals are not especially healthy cereals because they have been processed and denatured for the junk food market. They are nutritionally poor and some may even contain traces of pesticides and other contaminants.

As part of a green lifestyle you may want to eat mainly organic cereals and grains because they are better for your health and definitely better for the environment. You may also want to include a high percentage of whole grain foods because they are generally nutritionally superior, especially to bleached and highly processed supermarket products.

"There is evidence that regular consumption of cereals, specifically wholegrains, may have a role in the prevention of chronic diseases…. People who consume diets rich in wholegrain cereals seem to have a lower incidence of many chronic diseases,eg coronary heart disease and type 2 diabetes."

- The British Nutrition Foundation

Here are some cereal nutrition facts about different grain types with notes about their nutritional benefits, what makes each a healthy cereal, and some tips for using and storing them most effectively. We start with a look at whole grain wheat.

For more about organic foods please see Healthier diet advice and Why organic?

Click here for some good book choices on grains and recipes for grains

If you are interested in baking your own bread, check the recipes at the whole grain bread recipe page

Healthy cereal choices and cereal nutrition facts:

Healthy cereal: about wheat - a brief history Wheat has had a long history of cultivation by mankind.

It was until very recently, the most popular grain in the world. It has been superseded by rice and maize, probably because they are more easily genetically modified.
There has also been a backlash in recent years again...